"Epstein's talk on creativity and innovation at the
Cambridge Forum on Executive Leadership was
one of the most exciting I've seen in years."
D. L. Holland, Vice President, Group
Human Resources, Bayer Corporation
Distinguished scholar and scientist, award-winning author and editor, dynamic teacher, speaker, and radio show host, Robert Epstein is passionate about advancing the behavioral sciences and helping people flourish. Scroll down to learn about his recent projects, or click left to visit specific topics. To see him on CBS talking about his landmark course on relationships, click the image at left.
NEW!  You can now follow Dr. Epstein on Twitter. Click here to follow: @DrREpstein.

UPDATED! Do you need therapy? In May 2013, the Epstein Mental Health Inventory was updated to be consistent with the new DSM-5, the official diagnostic manual of the American Psychiatric Association. The new version is also jargon free and easy to read and understand. To see if you might benefit by meeting with a mental health professional, visit http://DoYouNeedTherapy.com.
AVAILABLE! If you are a parent of a teen or preteen, check out Dr. Epstein's newest test, the Epstein Teen Parenting Inventory, accessible at TeenParentingSkills.com.
BELIEVE IN LOVE?  After 7 years in development, AreWeGoodTogether.com—the ultimate test of romantic compatibility—is available in beta format. Have you found your perfect love? Do you and someone you just met have what it takes to live happily ever after, or are you headed toward disaster? Click here to find out.
To read, "How Science Can Help You Fall in Love," Dr. Epstein's cover story in Scientific American Mind, click here. To read a commentary on Dr. Epstein's work on love in the Washington Post, click here.
"I feel powerfully called to write in sup-
port of Dr. Robert Epstein's book The Case
Against Adolescence. I believe what he is
saying to have vast consequence for our so-
ciety. All of America should take note of it."
M. Scott Peck, M.D., The Road Less Traveled
PARENT OF A TEEN OR PRETEEN?  To preview TEEN 2.0: Saving Our Children and Families from the Torment of Adolescence (an updated, expanded version of The Case Against Adolescence), click here. To read about National Youth Rights Day, click here. To view Dr. Epstein's Young Person's Bill of Rights, click here. To hear an interview with Dr. Epstein about Teen 2.0 on Minnesota Public Radio, click here.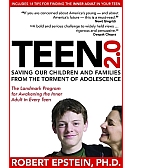 TEEN 2.0: Saving Our Children and Families from the Torment of Adolescence, was praised by renowned therapist Albert Ellis as "one of the most revolutionary books I have ever read," by Newt Gingrich as "a must read," by Joyce Brothers as "profoundly important," by Deepak Chopra as "rigorous and persuasive," by Alvin Toffler as "an essential read," and by Drew Pinsky as a "landmark book." Click here to download an interview from Psychology Today magazine about an earlier version of the book. Click here to take the Epstein-Dumas Test of Adultness. If you're a media professional or parent, click here to download a set of questions and answers about the book.
"Epstein's work represents a most
remarkable insight into the creative process."
John Vaught, Inventor, Hewlett-Packard's
Inkjet printing process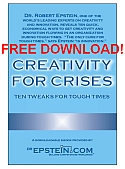 CREATIVITY ALERT: From a cover story in Scientific American Mind, click here to read about Dr. Epstein's landmark research on how to "Unleash Your Creativity." And check out the video of Dr. Epstein talking about how to boost creativity in business on "The Big Idea with Donny Deutsch" on CNBC here. Need a creativity boost? To take the Epstein Creativity Competency Inventory for Individuals, visit MyCreativitySkills.com. To download a free copy of Dr. Epstein's e-booklet, Creativity for Crises: Ten Tweaks for Tough Times, click here.
"Epstein has that rare blend of an
original mind and the ability to explain
what he's thinking. He'll challenge you
while entertaining you, and you'll walk
away a better person."
Warren Farrell, Why Men Are the Way They Are
 "Epstein provides an unusual perspective on
such central topics in cognitive science as
creativity, and shows the value of regarding
complex cognitive phenomena from
perspectives."
Stephen M. Kosslyn, Chair of the Psychology
Department and John Lindsley Professor of
Psychology, Harvard University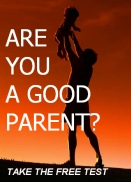 Want to know how you measure up as a parent? Take the new Epstein Parenting Competencies Inventory: the first comprehensive test of skills that are important for raising happy, healthy, productive children. Go to MyParentingSkills.com.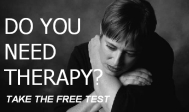 Concerned about your mental health? Take the Epstein Mental Health Inventory: a comprehensive 5-minute mental-health screening test based on the newly revised diagnostic manual used by therapists. Go to DoYouNeedTherapy.com.

 "Dr. Epstein's dynamic style and perspective
were welcome additions to our conference
on Southern youth. He understands that
addressing the needs of our young people
is never a one-size-fits-all proposition,
especially when it comes to teenagers."
Governor Mike Beebe, State of Arkansas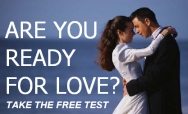 To see how strong your relationship skills are in seven different categories, go to MyLoveSkills.com. To take the Epstein Sexual Orientation Inventory, visit MySexualOrientation.com, available in English, French, Spanish, German, Dutch, Japanese, and Hungarian.

"Dr. Epstein shows how we can exercise
control over the love we experience
in relationships, even how we can build
love from scratch in a new relationship.
The lessons he has learned from his re-
search on how love emerges in arranged
marriages can benefit us all."
Janice R. Levine, Ph.D., Why Do Fools Fall in Love?

Feeling stressed? Take the latest version of the Epstein Stress Management Inventory for Individuals. Go to MyStressManagementSkills.com.
"Dr. Epstein has been lecturing
to about a thousand of our stu-
dents every year for 17 years now,
and he inspires and excites with
every visit. He is an original thinker
who knows how to communicate
his ideas with passion and power."
Norio Nakamoto, Managing Director,
MODE Gakuen Group, Japan

Is your motivation sagging? Take the latest version of the Epstein Motivation Competency Inventory for Individuals. Go to MyMotivationSkills.com.  
The Chautaqua Institution (audience of 3,000) ▪ National Inventors Hall of Fame ▪ The Smithsonian Institution ▪ Procter & Gamble ▪ Bayer ▪ Nestlé ▪ Dupont Merck ▪ Respironics ▪ City of Brea (California) ▪ Adhesives Manufacturers Association ▪ Chemical Specialties Manufacturers Association ▪ Army Research Institute ▪ U. S. Army National Training Center ▪ Creative Problem Solving Institute ▪ American Association of Plastic Surgeons ▪ Tenneco ▪ Georgia Power Company ▪ Institute for International Research ▪ Cambridge Institute for Executive Leadership ▪ National Association of Science Writers ▪ American Society of Safety Engineers ▪ TIME ▪ The New York Times ▪ Sports Illustrated ▪ NPR ▪ BBC ▪ Psychology Today ▪ Parenting ▪ Good Housekeeping ▪ USA Today ▪ Boston Globe ▪ New York Post ▪ New York Daily News ▪ National Enquirer ▪ Cosmopolitan ▪ Popular Science ▪ Wired ▪ Advertising Age ▪ New York Sun ▪ Christian Science Monitor ▪ Scientific American Mind ▪ CNBC ▪ Women's Health ▪ Reason ▪CBS Early Show▪Radio Netherlands▪ Wprost (Poland)▪ Baltimore Sun ▪ Verdens Gang (Norway)▪WHYY (Philadelphia)▪ Die Zeit (Germany)▪ Denver Post ▪ Marie Claire ▪WHDH (Boston)▪ Sunday Times (London)▪ London Evening Standard ▪ Sunday Post (Scotland)▪Voice of America▪ National Examiner ▪Fox News▪Swedish National Radio▪ Cosmogirl ▪48 Hours (CBS)▪Soap Talk▪ Observer (London)▪The Other Half (NBC)▪Sirius Satellite Radio▪ Elle ▪ Sunday Herald Tribune (Australia)▪WABC (New York)▪ Chicago Sun Times ▪CNN▪ Le Nouvel Observateur (France)▪ Focus (Germany)▪ Der Spiegel (Germany)▪ Diario (Italy)▪Radio National (Australia)▪BBC Radio Scotland▪ Los Angeles Times ▪ Mail on Sunday (London)▪ The Daily Mail (London)▪ Slate.com ▪ New York Daily News ▪The O'Reilly Factor (Fox)▪ San Diego Union-Tribune ▪WROR (New York)▪ Salon ▪The Mitch Albom Show (ABC)▪ The Guardian (London)▪ Washington Post ▪Canadian Broadcasting Company▪ Washington Times ▪The Morning Show with Mike and Juliet (Fox)▪TVO Television (Toronto)▪ Orlando Sentinel ▪The Big Idea with Donny Deutsch▪ Globe and Mail (Toronto)▪BBC World Service▪BBC Radio Ulster▪ Text zur Kunst (Germany)▪Smart Marriages Annual Meeting (audience of 2,500)▪ Reader's Digest ▪Southern Growth Policies Board▪Centre for Confidence and Well-Being (Scotland)▪University of Strathclyde▪International Business School (Isle of Man)▪Keio University (Tokyo)▪California Western School of Law▪Yale University▪University of Kyoto (Japan)▪Osaka City University (Japan)▪Rowland Institute for Science▪Marine World (San Francisco)▪The Neurosciences Institute ▪ Society for the Scientific Study of Sexuality ▪ The Kinsey Institute ▪ American Psychological Association ▪ Association for Behavior Analysis ▪ Lifetime Television Network ▪ CBS Sunday Morning ▪ National Geographic ▪ l'Actualité (Canada) ▪ Smart Money ▪ Rady School of Management ▪ Max Planck Institute for Human Development ▪ iChannel ▪ Daily Herald ▪